Once more of the the outcast of the social network community compared to its more news making counterparts - Facebook, Instagram, Twitter, and Snapchat - LinkedIn has been quietly regaining attention from business professionals. Don't call it a comeback, but with a focus on written content, personal videos, and engagements via comments vs. just sharing articles, LinkedIn has worked its way back to prominence despite some still seeing it only being good for recruiter and sales spam.
And with 500 million subscribers, revenues of $960 million, and a market capitalization of $14.2 billion shows that some people out there love it. A lot.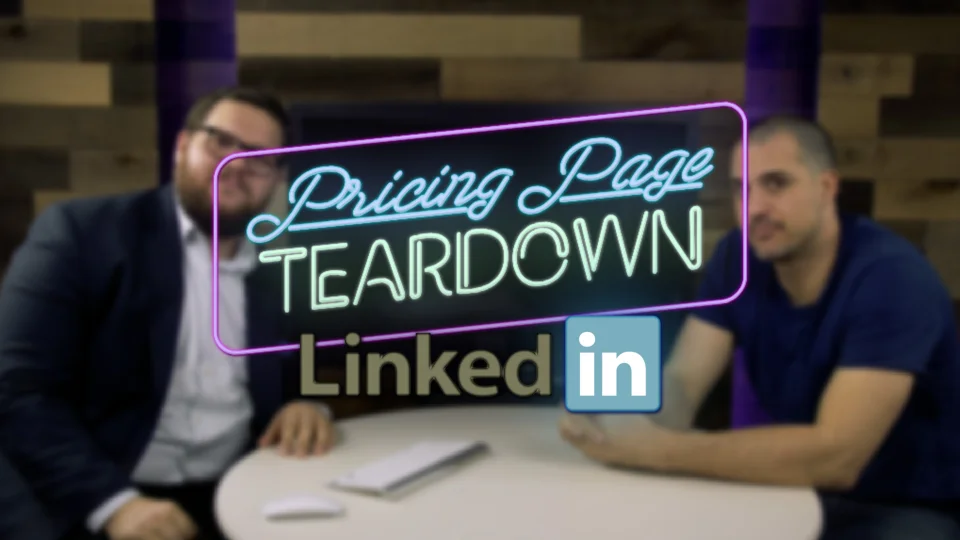 Enter your email so you don't miss a single Pricing Page Teardown.
(You can skip at the bottom right)
In the episode of Pricing Page Teardown, Patrick and Peter, show their sneaking admiration for this product. Or rather its pricing. Because LinkedIn doesn't care that they are expensive. In fact, the data suggest that is exactly what they need to do to grow their revenues even further, and potentially even acquire more customers.
How to go for the high end of the market
For anyone who has a LinkedIn profile, one thing stands out about signing up for the premium version of the service—it is not cheap. Whereas you can use every feature Facebook and Twitter have to offer for nothing, you can only do the basics on LinkedIn without signing up for one of their subscription packages.
The pricing page segments users into four main "food groups," each with a higher price tag than the last:
LinkedIn pricing
LinkedIn has four different pricing tiers for different needs: Career which is $29.99/month, Business which is $47.99/month, Sales which is $64.99/month, and Hiring which is $99.95/month.
Career - $29.99/month

Business - $47.99/month when billed annually

Sales - $64.99/month when billed annually

Hiring - $99.95/month when billed annually
The truth is, LinkedIn understands that the value they offer to each of these segments and their individual willingness to pay. When we surveyed 5,711 current, former, and prospective customers of LinkedIn, we found that the willingness to pay almost exactly matched the current pricing:
Almost exactly, but not exactly. For most segments, LinkedIn is hitting the higher end of the range for willingness to pay. They are losing out on the lower end of the market, and potentially higher acquisitions regarding numbers, to build the right experience for those that really want the product. As Patrick puts it:
"LinkedIn, whether they knew this or not, basically looked at this type of data, looked at this market and said 'We don't want to waste our time on low-end people who are going to churn immediately, we're going to go after they big dogs who are worth our time, worth the customer acquisition cost and definitely go after the actual people who are going to pay us the real money.'"
This is a great pricing strategy lesson. When you look at your willingness to pay data, remember that there are customers all along that range. There are more customers at the bottom, and you are going to hit the sweet spot of acquisition and monetization around the median. But the customers with the highest willingness to pay are the ones that should really find value in your product.
Understand the job you do to differentiate
The data also shows that LinkedIn could be pushing their pricing even higher. Though segmented along role lines, differentiating tiers within these roles is the next opportunity for LinkedIn.
The hiring plan is currently priced at $99.95/month when billed annually, but the data shows that there is more space even above this pricing:
Some of these possible tiers are below where LinkedIn's pricing currently sits. For the people at the low end of need, 0 to 10 jobs per quarter, LinkedIn has effectively decided to sacrifice these potential customers.
But once you are a serious recruiter looking to hire hundreds of people a year, access to the pool of professionals on LinkedIn goes from being a nice-to-have to a necessity. And you are willing to pay for that need. For people recruiting for more than 100 jobs per quarter, the top willingness to pay is 2X their current pricing.
The opportunity is even stronger for sales teams:
Current pricing is $64.99, which does sit pretty squarely in the middle of the average for all these team sizes. But that means they are losing opportunities at both the lower and upper ends of these ranges:
At the lower end, there is the potential for a smaller plan than currently offered. How many SaaS companies have sales teams of just 1 or 2 reps? Thousands. At the moment they are priced out, but a smaller plan could open up an entirely new customer base for LinkedIn.

At the upper end, the ranges here are huge. Larger sales teams are willing to pay 5X what smaller teams want to pay. LinkedIn could tier out a premium option for large sales teams that adds another 50% on top of their current pricing and captures even more customers.
This should be a no-brainer for the company. As Peter puts it:
"Do the damn thing, LinkedIn!"
In both these cases, customers are hiring LinkedIn to perform a certain task—find good hires and find good prospects. In both cases, people are willing to pay highly to make these jobs easier.
How Lynda.com will help LinkedIn make more money
In May 2015, LinkedIn acquired online course provider Lynda.com for $1.5billion. What does a social network want with an online university?
Upsell. When we looked at the data arrayed in a value matrix, we can see what features of LinkedIn customers value highest:
The core feature that everyone expects is unlimited people browsing. At the moment, LinkedIn does limit the information you can find for some people. The differentiable features are the ones that are going to drive conversions. The vanity feature of knowing who is checking you out is highly valued here, as is the ability to message others you aren't yet connected with via Inmail messaging.
But it is the upper-left quadrant that is the most interesting. These are the add-ons, features that only a few people want, but when they do they are willing to pay highly for the extra value. From these three, online video courses are the highest value.
By buying Lynda.com, online courses geared towards business skills run by experts, LinkedIn is further building the idea of itself as the social network of the professional. You sign up for LinkedIn to further your career. You see what skills you are missing to get your dream job. You pay extra for a course from Lynda to get those skills. Recruiters can then see in your profile that you took the course.
The upsell the fits naturally into the use by the customer.
Complexity is OK
LinkedIn's pricing is difficult to navigate. It has both consumer and business pricing. It charges a lot spread across different segments.
But it could be even more complex and make even more money. By tiering pricing and incorporating expansion revenue from add-ons into the packaging, LinkedIn could easily pass the $1 billion revenue mark. Check out the full video for exactly how Patrick and Peter think LinkedIn could be doing just that.